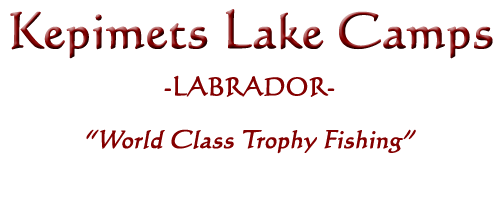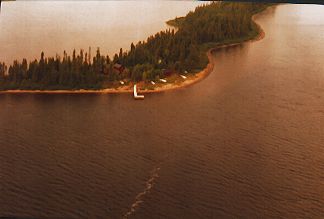 Just imagine skimming a deer hair mouse across the water with a light fly rod and having a trophy brookie, landlocked salmon, white fish or lake trout come up and smash it. Catching 1-3 pound fish almost every time you cast and casting to 10 pounders. Pioneering two wild rivers in Labrador that haven't been fished but by a select hand full.
Fishing catch & release waters that may only experience up to six rods per week for only a few weeks out of the year. Trophy pike and lake trout, are taken out of our lake in front of the camp also. We have a two mile river inlet and ten mile river outlet. These rivers are full of brookies and landlocked salmon. Both exclusive to our camps. Fly fishing only in our rivers, casting and trolling allowed in the lakes, which are 16 and 40 miles long. This area yields some of the finest wild brook trout, and landlocked salmon fishing in the world! This camp has been reserved mainly for the Libby Brothers and guides of Libby Camps in Maine for their vacations. In 2010 we will open to the public. Those few coming here will be required to treat the resource with tremendous respect!
Our camps are very comfortable, with showers, home-cooked meals and experienced guides. Come to the land of the Northern Lights and long days. Kepimets is rustic with many improvements in the facilities.
This year we will only be offering a reduced rate trip for those at this camp, because you and the guides will need to cook and clean as a team (no full time cook). This is not a trip for those looking to be pampered, but is great for those wanting to set their own fishing schedules and don't mind splitting the chores of camp. Groups that take the whole camp will be able to set their own meal schedules.